What's Happening in January...
Registration Now Open for the CBOC NOCP 1 Training
As we mentioned back in December, CBOC will be offering two more online NOCP 1 training sessions at the end of this month:
Session 1
When: January 26 & 28 (2 x 2hr sessions)
Time: 7:00 – 9:00 PM (EST)
Cost: $50
Session 2:
When: January 31 (1 x 3.5hr sessions)
Time: 7:00 – 9:00 PM (EST)
Cost: $50
Online registration will be completed through your Game Plan account, with the NOCP Level 1 Training found under the "Workshops" tab.
This training is for referees who are early in their officiating journey and others wishing to progress beyond local youth leagues and school-based programs. We encourage all existing level 1 officials and those just starting out on their officiating journey to register and participate in the training.
---
Sport Grant Available for Female Officials
Canada Basketball is committed to offer development and education opportunities for females interested in improving their officiating knowledge or in becoming a basketball referee. As part of an initiative to increase female participation for officiating in Canada, Canada Basketball, with the support of Sport Canada, will provide a grant for female participants interested in completing their NOCP 1 training. This funding is intended to create equitable opportunities and to support gender equity in our basketball officiating landscape.
Applicants eligible to apply must be:
Female and female-identified participants over the ages of 16
Available to participate in the NOCP 1 training between January 1st and March 31st 2021
Be in good standing with your respective Provincial/Territorial Sport Organization
A Canadian citizen
Following the successful completion of the NOCP course, female participants can complete an application and have the $50 course fee reimbursed.
---
Cam Moskal explains the 2020-21 POEs
Cam Moskal – Chair, National Rules Education & Exam Committee – provides a detailed breakdown of the 2020-21 National Points of Emphasis in the newest video released by CBOC. Cam provides a voice over on the National POE presentation. You can watch the video by clicking here or by heading to Game Plan (under the Tools > Video tab).
---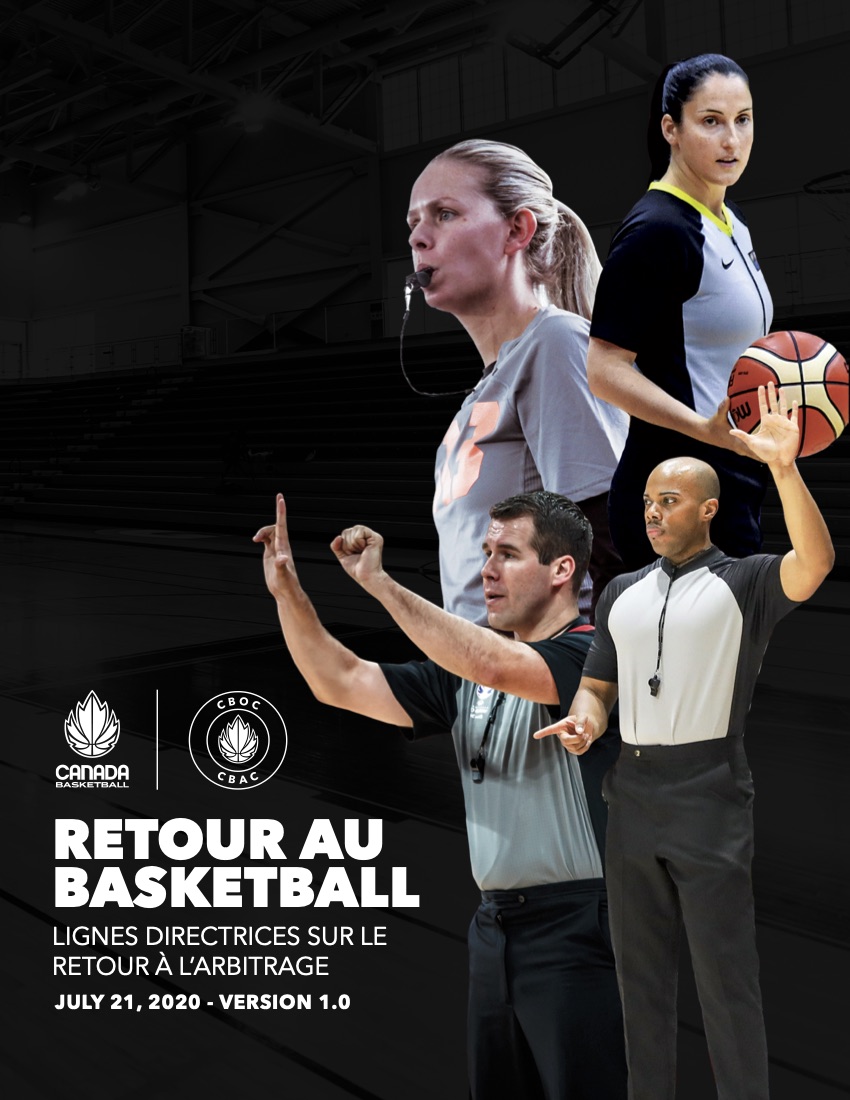 CBOC Return to Officiating Guidelines
CBOC has developed CB / CBOC Return to Officiating Guidelines. The documents are now available on Game Plan, in English here and in French here.
As you know, Canada Basketball, in collaboration with Wheelchair Basketball Canada, has published "Back to Basketball", a multi-phase guide to the safe resumption of basketball in Canada. The current version can be found on the Canada Basketball website here.
The CB / CBOC Return to Officiating Guidelines are a companion document that are intended to address the safe return of and requirements for referees participation in basketball games. The document will be monitored and updated as we move towards "Phase 5 – Return to Competition". It is acknowledged that each Province, through to each PTSO, will have their own guidelines and protocols for returning to the basketball court. The CB / CBOC Return to Officiating Guidelines should be considered complimentary.
---
USPORTS & CCAA Coaches Sessions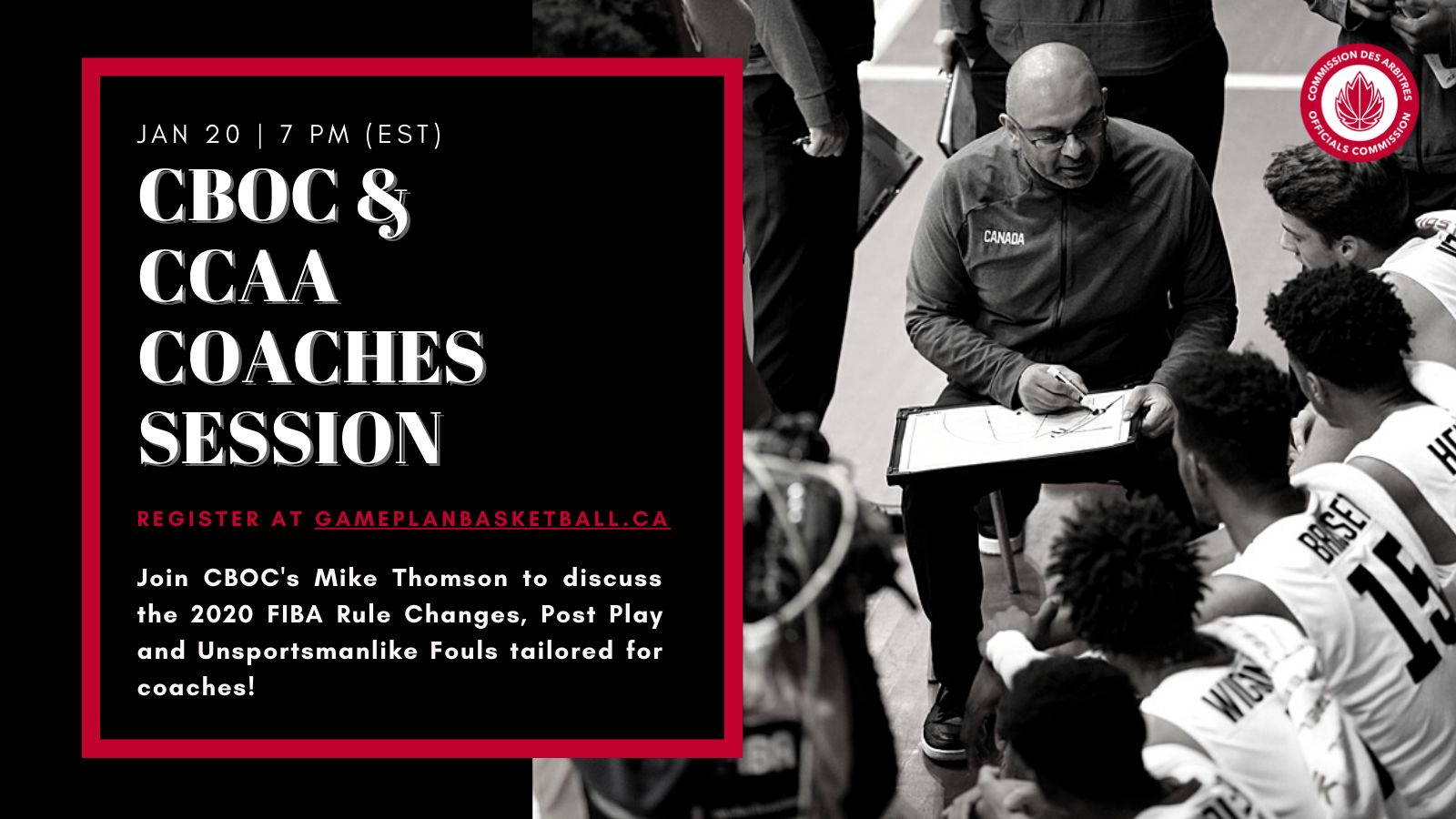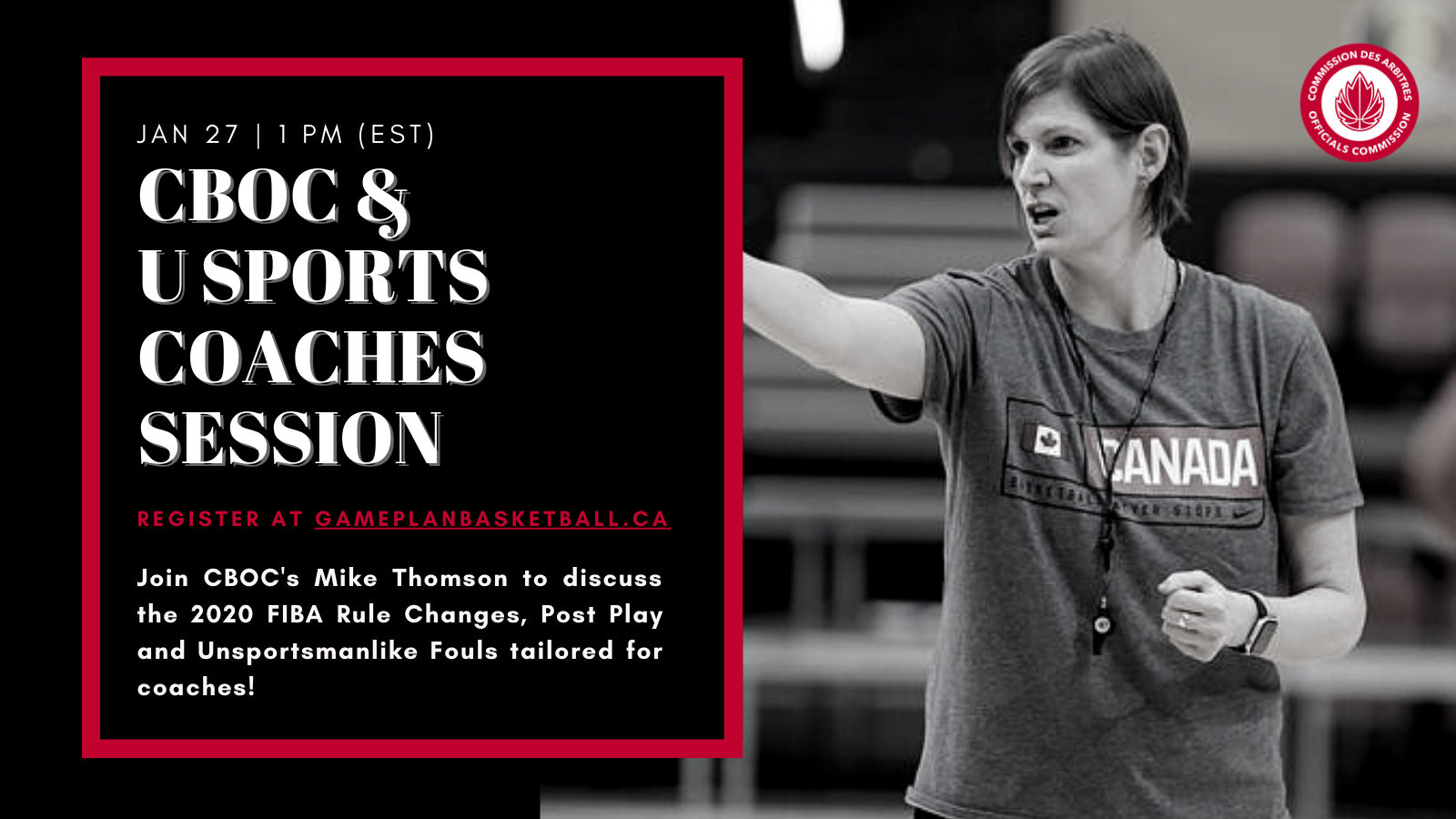 ---